ANFF-VIC user awarded Leverhulme Medal 2019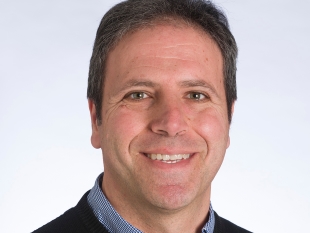 Professor Frank Caruso has been awarded the Leverhulme Medal 2019 by the Royal Society for "driving the application of engineered particles in biology and medicine through nanoscale materials engineering."
The Leverhulme Medal is awarded for an outstanding researcher in the field of chemical engineering and applied chemistry.
Professor Caruso is a prominent user of ANFF-VIC's capabilities at the University of Melbourne, and ANFF-VIC would like to congratulate him on this recognition of his continuing outstanding materials research.
Farewell to MCN's Operations and EHS Manager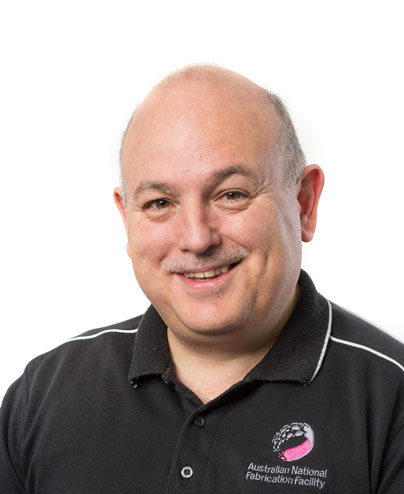 Paul Spizzirri has decided to move on to his next chapter and will be leaving his position as Operations and EHS Manager at the Melbourne Centre for Nanofabrication (MCN) after more than eight years in the role.
Paul joined the MCN in May 2011, bringing with him over 20 years of extensive laboratory experience with the last 13 years focused on silicon processing technologies applied to the fabrication of a solid-state quantum computer.
As a farewell message, Paul said: "MCN and the ANFF-VIC Node have been amazing environments to work in. The people, technology, and opportunities have been life changing and I've enjoyed my journey immensely. It has truely been a privilege to with this team who I know will go on to deliver amazing outcomes for Australia and the ANFF community."
Paul has done a truly outstanding job managing the operation of central infrastructure and equipment that supports MCN's state-of-the-art laboratory facilities, helping to grow the MCN's capability portfolio, user base, and its reputation.
Messages from the network:
Commenting on Paul's fantastic career at MCN, Professor Nico Voelcker, MCN/ANFF-VIC Director, said: "Paul has been an extraordinary leader and will definitely be missed. The systems and processes Paul has developed and implemented have allowed the MCN to operate at the highest level, and it's done so safely. On behalf of everyone at MCN, I would like to thank Paul for his many contributions over the years and wish him the best of success in future challenges and endeavours."
Dr Jane Fitzpatrick, ANFF Chief Operating Officer, stated: "Paul has provided an amazing level of value to both ANFF-Vic and the whole ANFF network throughout his time at MCN. His skills, knowledge and demeanour have earned him the greatest levels of respect and friendship across our organisation. Although ANFF will be sorely disappointed to see him leave, we wish him all the best in his coming endeavours."
Dr Cathy Foley, CSIRO Chief Scientist, said: "Paul, thank you for all your work and inspiration for the ANFF Vic Node. You have been instrumental in creating a world-class facility that has an incredible impact on Australian research that is enduring. You leave an amazing legacy that you should be very proud of, and good luck for your future endeavours."
Professor Ian Smith, Monash University Vice-Provost (Research and Research Infrastructure) said: "While I am sorry to hear you are leaving us, I wish you all the best for the next steps. In addition to those that have gained from your endeavours at MCN, Monash University has also benefited enormously from your leadership, selfless contributions and drive to ensure we are all working in an as healthy and as safe environment as possible, so thank you."
Probing in vitro cells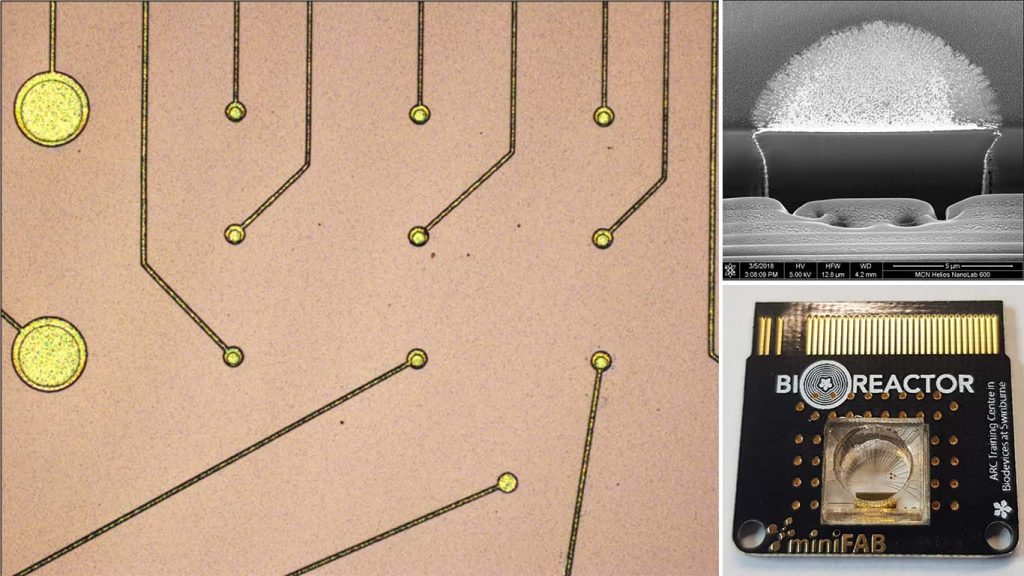 Scientists from the ARC Training Centre in Biodevices at Swinburne University developed a microscale multi-electrode array device (MEA) as a tool that probes the electrical properties of adherent single cells to identify their biological characteristics.
Monitoring cellular parameters in vitro is a fundamental requirement at the core of cell biology and impacts all the medical field and beyond. This technology was investigated for its potential to be used to test cell characteristics produced for cell-based therapies and reduce the cost related to their production.
The research project was conducted by Dr Steve Beguin under the supervision of Prof. Sally McArthur and in collaboration with industry partner MiniFAB. The facilities at the Melbourne Centre for Nanofabrication were extensively used by the researchers to develop a new method to manufacture microscopic electrodes that enabled high resolution and high-quality measurement of single cells in a culture of human stem cells.
The exceptionally flat topography of the microelectrodes allowed the tight cell-substrate sealing necessary to perform the measurements, which outperformed previously reported sealing resistance by 10 – 1,000-fold and allowed to directly measure the specific capacitance of the cell plasma membrane.
The project was one of the 10 PhD in Technology Innovation completed with industry in the ARC Training Centre in Biodevices at Swinburne.
Image captions
Header image – Left: Top view of MEA electrode array. Top Right: Cross section of device made using FIB-SEM. Bottom Right: The MEA Device.
Inset image – Top: Labelled cross section, made using FIB-SEM. Bottom: Human stem cells on MEA Device.
ANFF CEO appointed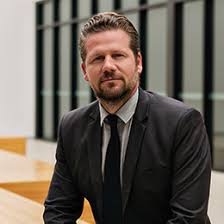 Dr Ian Griffiths has been appointed as the Chief Executive Officer of the Australian National Fabrication Facility (ANFF), commencing this quarter. The decision was announced by ANFF's Chairman and Board on 8 July 2019, following an extensive four-month search.
Dr Griffiths is currently CEO of Wound Innovations Pty Ltd, a spin-out from the Wound Management Innovation Cooperative Research Centre of which he was Director and CEO. Over an extensive career in Australia and the UK he has successfully established companies based on new technologies and worked with universities, industry and government in fostering high-end research and innovation.
As CEO of ANFF, Dr Griffiths will provide leadership and oversight to the eight ANFF nodes that are spread across Australia. Based primarily in Brisbane, QLD, Dr Griffiths will work with the ANFF team to ensure that ANFF and the 500+ micro and nanofabrication capabilities in its open access portfolio continue to enable ground-breaking research.
Tickets on sale for ANFF-VIC Winter Workshop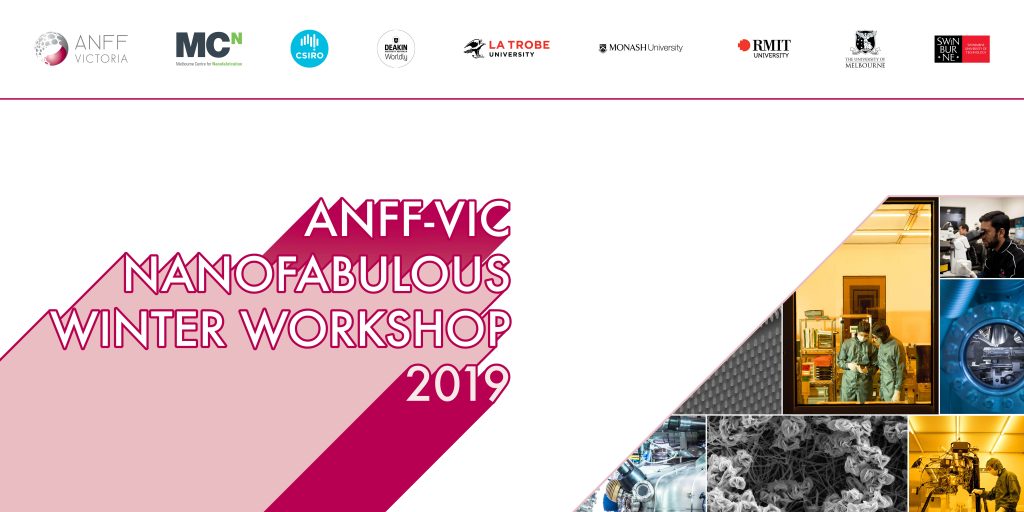 Tickets are now on sale for ANFF-VIC's Winter Workshop, a two-day event featuring technical talks and practicals aimed at researchers that are new to nanofab or the ANFF network. The Workshop is being held at MCN on 19 and 20 August 2019.
Hear from experts and ANFF-VIC users as they discuss the open-access nanofabrication capabilities made available by ANFF-VIC.
Each day, the mornings will be filled with ANFF-VIC hub-focused talks, presenting 7 locations' flagship capabilities, example case studies and technical process talks. The afternoons comprise in-lab practicals, demonstrations, and tours of local facilities.
Click here for more information or click here to view the program flyer.