Upcoming: ANFF Direct Write Lithography Workshop (Feb 16th)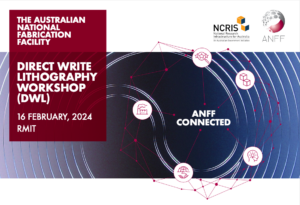 As a bonus following the upcoming ICONN 2024 conference taking place Feb 13th to 15th at the Melbourne Convention and Exhibition Centre, ANFF is hosting a free Direct Write Lithography Workshop (DWL) on 16th Feb 2024.
The workshop will feature exciting and insightful talks from broad range of DWL experts as well as tips and tricks and networking opportunities.
For further details and a link to register, please see here.
Adorning a red blood cell with the world's tiniest Mo
The team at MCN recently had the pleasure of working with Lifeblood (Australian Red Cross) and Movember on an interesting, if quirky, project with both microscopic proportions and massive challenges. The goal: fabricate and position the world's tiniest moustache on a red blood cell. The result, as you can see from the image above, was a smashing success.
To read more about the project and how it came together, visit here.
Credit where it's due:
Blood cell sample prep – Monash Ramaciotti Centre for Cryo-Electron Microscopy 
Mo fabrication – John Paul Teodosio
Mo manipulation and placement – Dr Vahid Adineh
FIB-SEM support – Dr Guangyuan Si and Dr Tatiana Pinedo-Rivera
Nanofabulous Seminar: Matter to Life: Bottom-Up Assembly of Synthetic Cells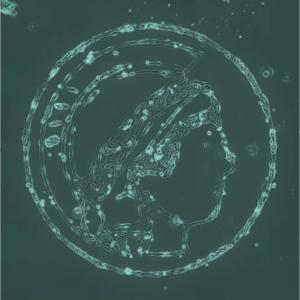 The evolution of cellular compartments for spatially and temporally controlled assembly of biological processes was an essential step in developing life by evolution. Synthetic approaches to cellular-like compartments are still lacking well-controlled functionalities, as would be needed for more complex synthetic cells. With the ultimate aim to construct life-like materials such as a living cell, matter-to-life strives to reconstitute cellular phenomena in vitro – disentangled from the complex environment of a cell. In recent years, working towards this ambitious goal gave new insights into the mechanisms governing life. With the fast-growing library of functional modules assembled for synthetic cells, their classification and integration become increasingly important.
We will discuss strategies to reverse-engineer and recombine functional parts for synthetic eukaryotes, mimicking the characteristics of nature's own prototype. Particularly, we will focus on large outer compartments, complex endomembrane systems with organelles and versatile cytoskeletons as hallmarks of eukaryotic life. Moreover, we identify microfluidics and DNA nanotechnology as two highly promising technologies which can achieve the integration of these functional modules into sophisticated multifunctional synthetic cells. 
Prof Joachim P. Spatz
Max Planck Institute for Medical Research, Heidelberg, Germany
http://www.mpimf-heidelberg.mpg.de/en
11:00am, 9/11/2023
Melbourne Centre for Nanofabrication
151 Wellington Road, Clayton, 3168
Zoom link: click here
Meeting ID: 863 5742 5847 Passcode: 074707