Probing in vitro cells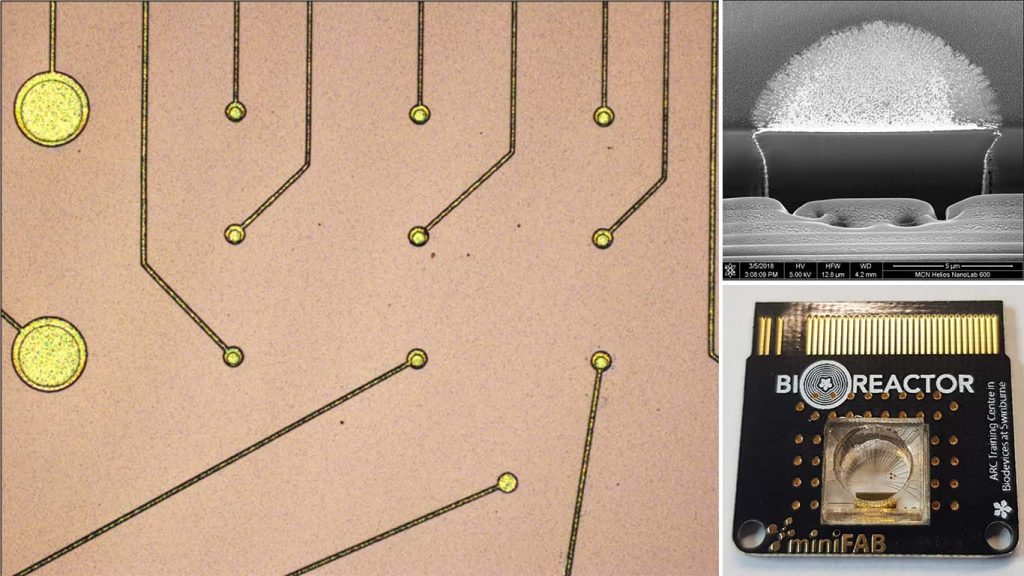 Scientists from the ARC Training Centre in Biodevices at Swinburne University developed a microscale multi-electrode array device (MEA) as a tool that probes the electrical properties of adherent single cells to identify their biological characteristics.
Monitoring cellular parameters in vitro is a fundamental requirement at the core of cell biology and impacts all the medical field and beyond. This technology was investigated for its potential to be used to test cell characteristics produced for cell-based therapies and reduce the cost related to their production.
The research project was conducted by Dr Steve Beguin under the supervision of Prof. Sally McArthur and in collaboration with industry partner MiniFAB. The facilities at the Melbourne Centre for Nanofabrication were extensively used by the researchers to develop a new method to manufacture microscopic electrodes that enabled high resolution and high-quality measurement of single cells in a culture of human stem cells.
The exceptionally flat topography of the microelectrodes allowed the tight cell-substrate sealing necessary to perform the measurements, which outperformed previously reported sealing resistance by 10 – 1,000-fold and allowed to directly measure the specific capacitance of the cell plasma membrane.
The project was one of the 10 PhD in Technology Innovation completed with industry in the ARC Training Centre in Biodevices at Swinburne.
Image captions
Header image – Left: Top view of MEA electrode array. Top Right: Cross section of device made using FIB-SEM. Bottom Right: The MEA Device.
Inset image – Top: Labelled cross section, made using FIB-SEM. Bottom: Human stem cells on MEA Device.